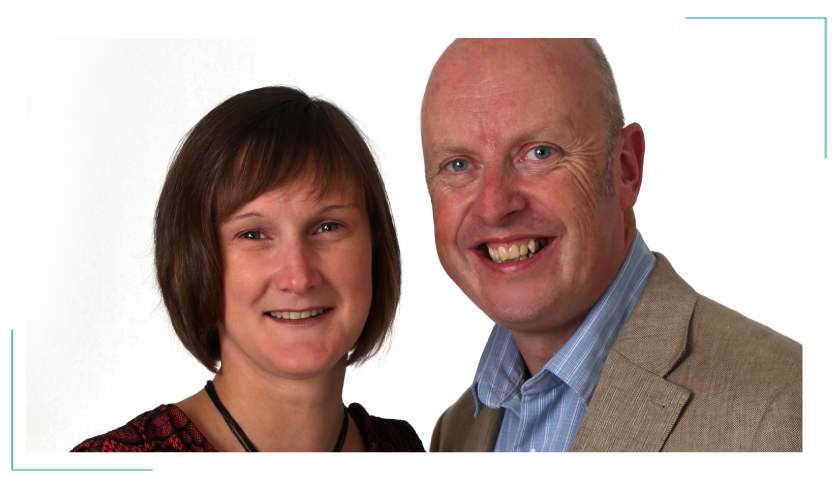 Six months ago, Sarah and Martin Rapley had two businesses: Refurbishment Masterclass, offering property refurbishment courses, and Helpful Property Group, providing project management for property investors in the UK. They offered a lot of value but were constantly struggling, as Martin recalls.
"We had a number of streams to the business but didn't understand how to differentiate or market them. We didn't know how to focus on any one thing, so we couldn't make a success of any of it! We were so caught up in dealing with day-to-day tasks that we barely had any time to think about our bigger vision. It was stressful and chaotic."
The chaos wasn't helped by the fact that Sarah's position in the business was unclear.
"I joined Martin's business and just picked up anything that needed to be done rather than doing what was in my flow. I desperately needed to figure out how I best fit into the business."
They decided to attend iLab, a two-week business accelerator programme in Bali founded by Roger Hamilton, a social entrepreneur and futurist. They also swiftly signed up for Crystal Circle, Roger's high-level entrepreneur mentoring programme. Within six months, they were able to turn their businesses around with these simple changes.
The biggest issue facing Sarah and Martin was their lack of clarity in what they were selling and how they were marketing it.
"We were doing the exact same marketing under both business names, so there was a mixed message. At networking events, we'd put up slides in one name and a banner in the other, which left customers very confused! Through Roger's mentoring, we realised that the majority of our customers were interested in our training and mentoring as opposed to project management. We realised the trainings was the easiest service to expand, and this would give us the time and freedom we desired. We saw a way to create the lifestyle business we wanted."
Sarah and Martin decided to start marketing under one umbrella, Refurbishment Masterclass, and quickly saw that it acted as a funnel for their project management services.
Sarah and Martin thought that their Refurbishment Masterclass, which is comprised of one to two-day events six times a year, was for new property investors looking to learn more about refurbishment. When they decided to learn know more about their customers, they made an important discovery.
The trainings courses are an entry point to their sales funnel, leading to their mentoring services, and then project management as required. Martin explains the process.
"Our mentoring is now a structured fortnightly phone call with optional face-to-face visits, and we don't market the project management because it's easier to sell in person, and people who've done the courses will naturally return for it."
Finally, to create a three-tier product pathway, Sarah and Martin will soon be launching their video training courses for only £149, making it available to an even wider customer base. Meanwhile, training events will remain a mid-tier product priced at £397 and £597 with mentoring and project management services being their top products.
Whilst Sarah and Martin were running two successful businesses, they were still barely paying themselves a minimum salary. They constantly felt like they were struggling.
In addition to the positive mental shift, Sarah and Martin found their business actually grew as a consequence of striving to meet salary targets. They were forced to review business operations and expenses as well as identify areas where they could reduce the costs. As a result, this July has been their most profitable month to date, and they're now aiming for a salary of £10,000 per month.
Much like nature has its rhythm, it's important to find your rhythm in your enterprise.
Through developing a conscious rhythm to their work, they also found Sarah's place in the business.
"We discovered that Sarah needed to drive the business. I was always out working, but it was still left to me to project manage, which wasn't happening. Now, Sarah manages me and the business. She tells me the content of webinars I'm doing and runs the weekly meeting. We've finally got a structure that works."
Their vision for the future now seems more achievable than ever.
"The big thing we've always wanted is flexibility and time to do other things outside of work like travel. So, we're reducing the project management and only working on projects that really excite us. We've got video courses ready to publish online, a book in the works, and we still have a property investment portfolio. We've outsourced as much as we can and improved our rhythm. Before, we had a scattergun approach; now, we're starting to see some traction and have the lifestyle business we always wanted!"
What can you do today to get more clarity in your business?
How can you get to know your client better and begin communicating to them in their language?